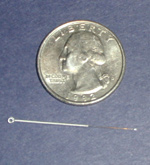 Do I have to be ill to benefit from acupuncture?
Absolutely not. Many patients come for regular treatments as a means to help them continually cultivate better lives. Acupuncture can also be a powerful preventative measure to keep patients healthy throughout the year as well as providing a general sense of well-being.
Are there different styles of acupuncture?
Since it has been continually practiced around the world for 3000 years, many different styles of acupuncture have evolved. One major distinction is whether the practitioner utilizes cookbook procedures and standardized protocols or is skillful enough to offer individualized treatments that incorporate a variety of techniques. David Wurzel develops treatment plans for each unique patient.
Does acupuncture hurt?
The sensations that patients experience during acupuncture range from nothing at all to a brief ache or heaviness in the area being needled. Some points are more sensitive than others. By and large patients describe the sensations as fleeting and the treatment experience as deeply relaxing.
Is acupuncture covered by insurance?
The Chi Farm is an in-network provider for CareFirst Blue Cross Blue Shield, Aetna, Cigna, United Healthcare and Optum Health insurance plans. To inquire about your coverage, please fill out the New Patient Contact Form.
Are the needles safe?
Yes. Only single use, prepackaged and sterilized disposable needles are used. After insertion each is immediately disposed of in an approved sharps container.
How frequently do I need to come to benefit from treatment?
The frequency of treatments varies with each individual. Please feel free to call or email to discuss your concern and a possible plan of treatment. For many situations weekly treatments are sufficient.
How do I get the most out of each treatment?
A light meal is suggested several hours before treatment. Avoid caffeine and large amounts of sugar for several hours before and after treatment. Avoid intense physical activity before or after your scheduled treatment as well as alcohol for at least 24 hours after treatment.